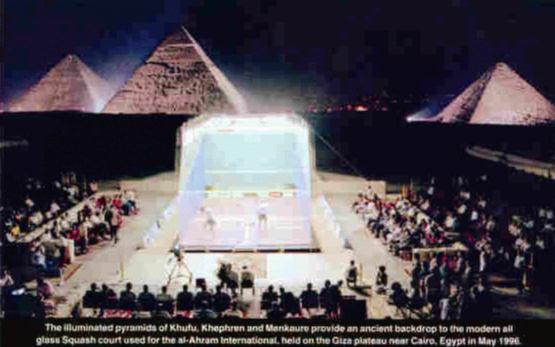 The illuminated Great Pyramid at Giza provided an ancient backdrop to the modern all glass Squash court used for the Al-Ahram International, held on the Giza plateau near Cairo, Egypt in May 1996. Photographs of this sensational setting appeared in newspapers worldwide. Television coverage brought the mystical atmosphere of the event into homes everywhere. As a special bonus for the Egyptian sponsors, a young Cairo player, Ahmed Barada, reached his first ever Grand Prix final, losing only narrowly to World Champion Jansher Khan of Pakistan.
from http://www.squash.org/Tournaments/cairo.html
---
Back to my home page.
---
Ahmed M. Abdelatty Ali